Are you planning an outdoor event, but you would love to have in in a much more adventurous location than a beer garden or in a marquee? If you do want to host a unique outdoor event and you don't want to compromise on the food, you definitely need to enlist the help of the Hog Roast Brimsdown team!
Thanks to our fleet of robust vehicles and equipment, we are capable of venturing off the beaten track to cater in more rugged terrain and in more remote locations where other caterers may fear to tread! So, if you are dreaming of a romantic rural retreat or a spectacular view of your event, we can help you to make it happen!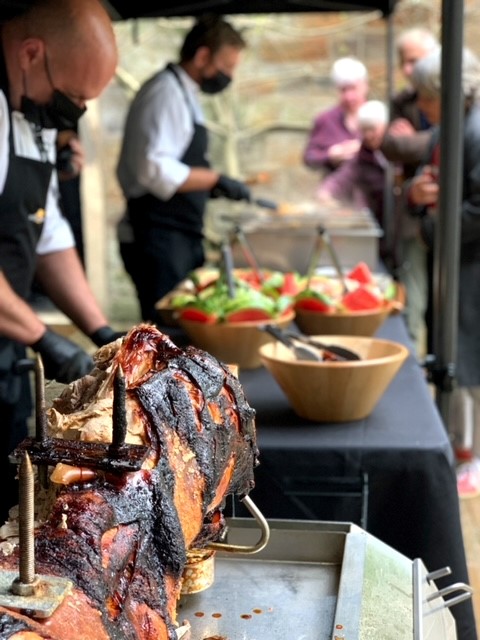 What better sight coming over the horizon than the Hog Roast Brimsdown crew en route to your outdoor venue, equipped to cook up an absolutely storm for your guests when we get there! If you are concerned about storms of the weather variety, we can bring along our own catering gazebos to prepare and serve the food, as well as everything else you want us to provide for your guests including serving tables, high-quality and eco-friendly disposable crockery and cutlery, napkins, and crisp linen tablecloths. We will also handle clearing away all the rubbish from site afterwards and we will not leave a single trace that we were ever there.
So, what kind of quality and range of food can you expect if we are catering for your outdoor event? The answer to that is, only the highest standard of food and as many different dishes as you require to please your guests! We can cater in any setting without the need for any mains power or kitchen facilities at all without being limited to the variety or volume of food that we can supply. Not only will your guests be able to enjoy the aroma of our beautifully cooked hog as it is roasted slowly onsite over several hours, we will also prepare the rest of your food from scratch at your venue too!
Whatever location you are planning to host your event in, the Hog Roast Brimsdown team will be able to get there, prepare all of our food there, and offer you an unforgettable dining experience and great service throughout from start to finish!