Here at Hog Roast Bromley we believe there really is no event that cannot be made even better by the addition of our delicious slow roasted food. Whether you are planning a birthday, christening, wedding or even corporate event Hog Roast Bromley will be able to come along and transform your event into something even more wonderful. No matter how many guests you have attending or any  dietary requirements that need to be catered for, our professional team of Hog Roast Bromley chefs will always be able to deliver and will put together a hog roast menu that really will blow you and your guests' expectations out of the water.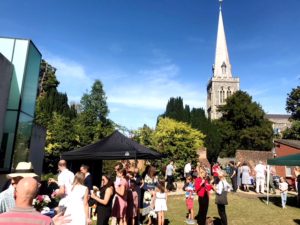 Hog Roast Bromley catering manager Matt was recently invited to come and prepare a mouth-watering hog roast for a local church festival. The festival was being held at the stunning St Mary' s Church in Wimbledon. We had been briefed to expect around one hundred guests throughout the day with our main serve time being 1.30pm. For such a large event we had to come prepared and that meant ensuring we had enough meat free and gluten free options for any guests that may require them. This was no problem and Matt made sure he prepared lots of our signature grilled vegetable and halloumi skewers for the vegetarians. Our vegan option was the veggie skewers minus the cheese and to ensure those with gluten sensitivity could enjoy the hog roast we hand baked some gluten free bread rolls.
For the rest of the guests we would be serving up our classic Hog Roast Bromley. This meant cooking a whole hog in our machine before carving into slices and serving up into freshly baked rolls along with homemade applesauce and some hearty sage and onion stuffing. We also made sure to prepare a few other accompaniments including crunchy coleslaw and a mixed salad so that there would be plenty of options for everyone.
We had a lovely day at the festival and fingers crossed will be asked back for next year's event too!