With a whole host of fantastic menus to choose from for your party or event, Hog Roast Hackney will be the talk of the town (or at least your guests!) for a long time to come. Whether you're planning your wedding day, a birthday party or school fair, or anything else in-between, our professionals make tasty, fresh dishes to suit all kinds of palates and appetites, and we make sure to cater for special dietary requirements if required, too. Vegetarians, vegans and those on a plant-based diet can enjoy suitable alternative mains, and many of our canapés, sides, starters and desserts are suitable or can be made suitable where needed too. Plus if you have any guests who are intolerant or allergic to gluten or dairy, for example, we can make something just as delicious too – just let us know in advance and we'll do you proud.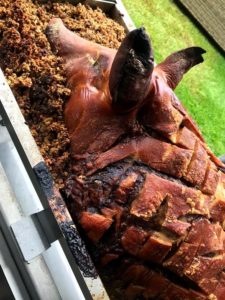 When Hog Roast Hackney recently catered a corporate hospitality function for Ray, he had asked us to create a sumptuous feast of pigs in buns made from a traditional centrepiece hog roast that we would cook for hours on end, but he also needed to cater for his vegetarian guests too. Armed with options like stuffed mushrooms or peppers, a homemade quiche or mac and cheese to choose from, Ray went back to those particular guests and asked them what they would prefer to be served and they selected our lovely veggie skewers – packed full of halloumi cheese and various local vegetables including baby tomatoes, mushrooms, red onion, mixed peppers and courgette.
On the morning of Ray's event, at the large shop that he runs, our Hog Roast Hackney team members including our chef set up our equipment outside in the car park. Once the gazebo was up, which would protect us from the sun or rain (or sometimes both, depending on our changeable English weather!) our chef then prepared the meat and started roasting it, slowly but surely.
By lunchtime, the meat had a rest while we prepared the pigs in buns ingredients of bread rolls, stuffing and apple sauce, and then once the skewers were grilled and the meat and crackling had been carved off, it was finally time to treat Ray's guests to some truly amazing food.