Since launching the business over two decades ago, J Reddington Ltd, a.k.a. JRL has grown from a small construction firm to being one of the top 100 companies in the country, who are renowned for delivering landmark buildings all over London. During the early months of lockdown, the workers were on standby, but now that everything is up and running again the bosses agreed that a treat was in order – and what could be better than a hog roast lunch?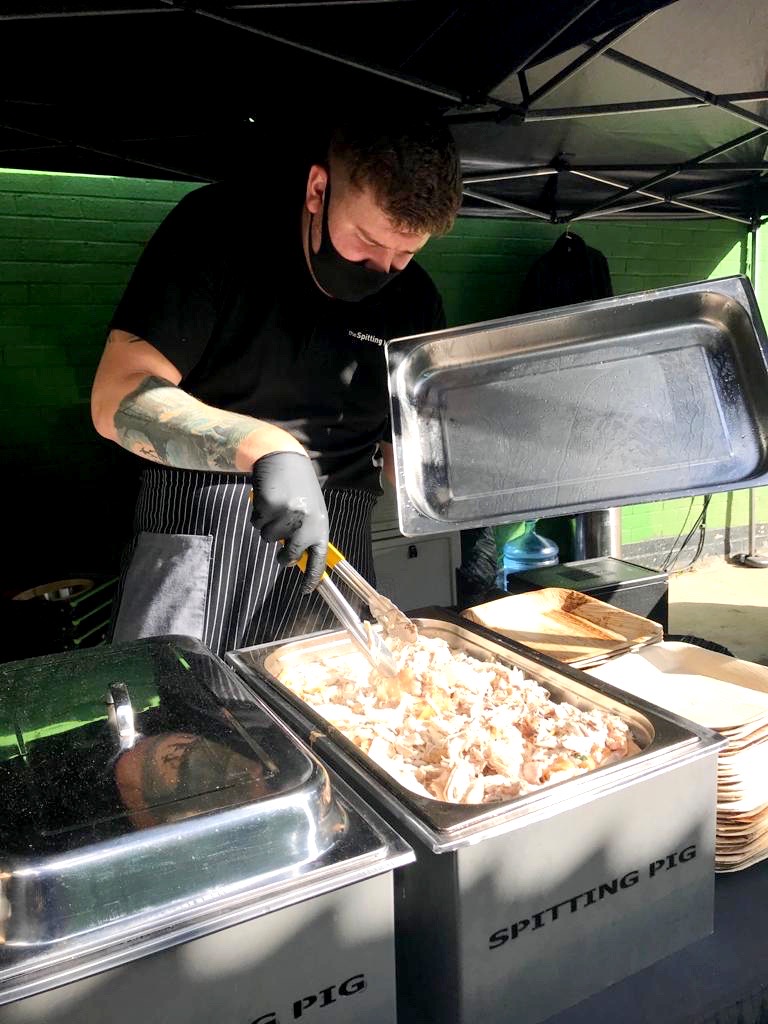 To satisfy their cravings for succulent slow roasted pig, Hog Roast Harrow was called in to handle the catering for the event by company rep, Eimear. With 150 mouths to feed, this was by far the largest function our dedicated duo, Ben and Beth had been asked to serve at since before lockdown started, but this pair had no problems getting back into the swing of things! Trust me, whether it's 5 or 5,000 people, you can always count on us to deliver an exceptional meal that won't soon be forgotten!
Eimear had managed to secure the Hendon Rugby Club grounds for the big day, which gave Hog Roast Harrow plenty of room to set up the catering gazebo and get the food on the go, ahead of the guests' arrival. As usual, they started off by preparing the large pig which had to be scored and rubbed with salt before being left to cook over a low flame for several hours. Pig sorted, Ben and Beth used their remaining time to spit roast seven whole chickens which were to be served with chipolata sausages, stuffing and homemade onion gravy. In addition to this, juicy gourmet sausages, mixed chips, crunchy coleslaw, fresh salads and meat-free alternatives of grilled veggie skewers with optional halloumi and BBQ pulled jackfruit were included on the menu along with gluten-free rolls and wraps.
The guests were in complete awe of the mouth-watering feast that Hog Roast Harrow had spent the entirety of the afternoon (and much of the morning) preparing for them, and after queueing up to get their fill, they eagerly devoured their first of many helpings!