Let our Hog Roast Romford experts take the reins and the stress off of your shoulders by catering with delicious, fresh food that has your wants and needs at heart. We offer much more than you might imagine, as we know that many of our customers have guests with dietary needs or may want a multi-course menu or even just additional sides, and we have plenty of options to do this and beyond. You can kick back and relax together with your guests while we cook up a storm and ensure that carnivores and herbivores alike get to enjoy our wholesome food, as well as guests with allergies or intolerances.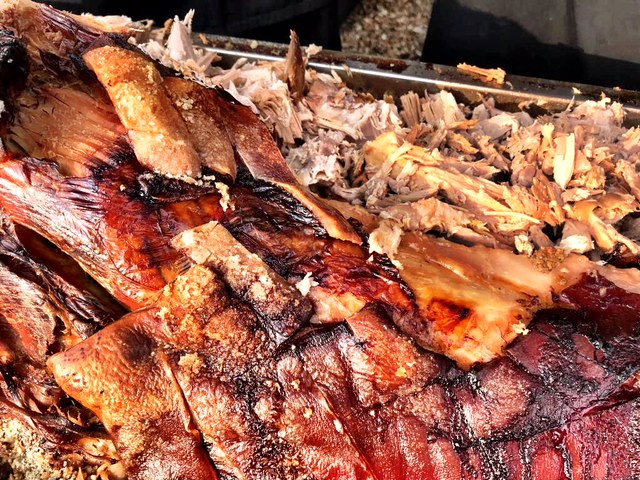 Hog Roast Romford recently catered a milestone birthday party for Mark, who asked us to provide a menu that would suit all of his guests and not just most. With a gluten-free guest and several vegetarians, we worked together with Mark to create the perfect menu, and for him, that would be piles of our mouthwatering pigs in buns and oodles of tasty veggie skewers, full of veg and halloumi.
Our pigs in buns are famous for more than one reason and that's because they feature fresh, hot meat and crackling, carved straight off the pig after sizzling away for hours on end slowly but surely, as well as our homemade apple sauce and sage and onion stuffing, both firm favourites with our long-term customers. To make them suitable for the gluten-free guest, all we'd have to do was take along suitable bread rolls, as all the other ingredients are already suitable. To make our veggie skewers, we grill halloumi, tomatoes, mushrooms, courgette, mixed peppers and red onion, and serve in pitta with Tzatziki, and they are loved just as much as our signature food.
Hog Roast Romford had a great time catering for Mark and his forty guests over the weekend, and we had so many wonderful compliments about both the meat and veg dishes that we couldn't keep up. By the end of service, the hog had been stripped clean, and so had the plates of skewers, and that's really the best compliment we can receive.