Hog Roast Staines recently catered a beautiful wedding that had an informal, rustic theme and featured one of our traditional centrepiece hog roasts that wowed the couple and all of their guests. When Jim and Rosie asked us to cater, it was because they had thoroughly enjoyed our services already in the past and knew their guests would love our food too, and for their special day they wanted nothing more than to celebrate the occasion by eating great food and relaxing with their friends and family members.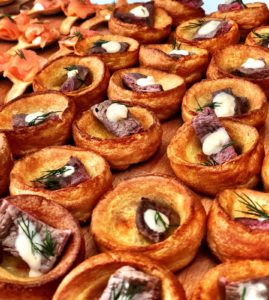 When we asked Jim and Rosie about their reception menu, they said they wanted some of our handmade canapés served together drinks upon arrival, followed by the main course of pigs in buns served buffet-style and then finished off with their wedding cake, which would be made by Rosie's mum. We can offer all kinds of menus for all kinds of occasions, and this includes options for special diets or differing tastes, and for this wedding, we were also asked to provide a vegetarian option. We don't just offer one option, however – we have several choices, including homemade quiche, mac and cheese, stuffed vegetables or burgers, but Jim and Rosie decided on our veggie skewers, which we make by grilling halloumi and vegetables and then serving with pitta bread and a special dip.
On the day on Jim and Rosie's nuptials, our Hog Roast Staines chef and team members made their way to the stunning venue, a lovely hotel with gorgeous gardens that were just perfect for those all-important wedding photos. The huge marquee was already set up and we set up our equipment nearby. The first order of the day was to prepare the meat to be roasted, so our chef scored it, covered it in water and then massaged in lots of salt, then set the temperature low and it started to slowly sizzle away.
Later on in the day, we freshly made some lovely canapés, including mini burgers, mini veggie burgers, roast beef in Yorkshire pudding, Peking duck wraps, wild mushroom bouchees and dim sum, grilled the veggie skewers and got ready all the ingredients for the pigs in buns, and by 5pm, Hog Roast Staines was ready to serve some delicious food to the happy couple and their 70 guests.