Nothing gets the crowds flocking like some of Hog Roast Wimbledon's irresistible slow roasted pork and we love the buzz of catering for a busy public event! The latest local event we were involved in was a creative gathering of local purveyors of arts and crafts who had assembled for the day to sell their wares at a local crafts fair. The event organisers wanted some equally creative catering to feed the attendees and they felt that the tempting aroma of our signature hog roast would be just the ticket! They also loved the fact that just like the local craft specialists, we are always keen to advocate the quality of great local produce by only ever using the best home-grown fare and finest ethically reared meat in all of our dishes and preparing everything from scratch on-site!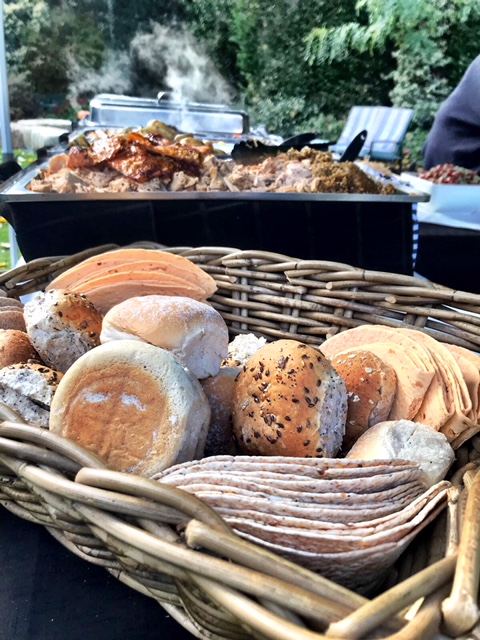 After spending several hours on-site ensuring our delicious pork was falling off the bone and ready to be devoured, we were ready for action as the event opened and the craft loving locals began to peruse the stalls. Before too long we had a healthy queue of hungry diners all eager to sample our succulent, flavoursome pork accompanied by our hot crispy crackling and smooth homemade apple sauce, along with some tasty grilled veggie skewers as the meat-free option! Hog Roast Wimbledon's sociable chef and catering assistant chatted happily with our diners whilst we served them with our usual friendly efficiency, and we made sure no one had to wait too long before they could tuck into some of our hearty hog roast!
One of the many great things about having one of our hog roasts is that there is always plenty to go around because one of our mighty machines alone has the capacity to cook enough pork for 300 people. It is the ideal option for a public event where the organisers can't be sure of the turnout because there is never any danger of anyone being turned away hungry!
It was a busy day for the stallholders and for the Hog Roast Wimbledon team alike and everyone had a great day, some great food and went home well fed and with some unique craft pieces!