Starting your own catering company comes with lots of unforeseen risks, costs and challenges for you to overcome by yourself. We understand that this can be enough to put a lot of people off taking the leap, so we offer a franchise opportunity to make your life easier! A franchise allows you to be your own boss, while also reducing many of the risks associated with starting your own business.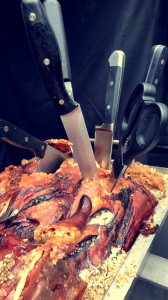 Joining a Hog Roast Holloway franchise means you have a team of experts behind you, helping you along every step of the way. We are on hand to offer advice when it comes to ingredients, equipment, time management, and boosting your business. Since we have years of experience in the catering industry, we have asked all the questions and faced all the challenges that you will face when you get started- so you do not need to struggle alone!
Another great benefit of joining a franchise is getting to use our equipment and machines. At Hog Roast Holloway we have a wide variety of hog roasting machines, each with different pros and cons. We have machines of different sizes, with some perfect for beginners, while others are more suitable for experienced caterers. Whatever your catering background may be, we have a machine to suit your needs.
The fastest way to grow your catering business is through contacts and word of mouth. For example, when you offer spectacular catering for an event, the organisers and customers are likely to recommend you to others and bare your company in mind for their future events. This helps you to grow and thrive in a competitive market. We have a lot of great contacts that can help you to reach your full potential as a caterer.
Does a Hog Roast Holloway franchise sound right for you? If so, get in touch today to find out more. We are always happy to welcome new people to our team of franchisees, so why not take the leap and join us? We can't wait to help get you started.