Potatoes, the vegetable of the nation, nothing beats a soft buttery jacket potato on a cold winter's night or roasted potatoes as good as your mum used to make, or fresh herbed new potatoes served well with hot meat and salads. All of which can be found on Hog Roast Ilford's menus.
What potato options can you pick?
Let's start with all-time favourite buttered herbed baby new potatoes, goes fantastic with a classic hog roast and a few salads. The new potatoes are nice and soft served in a blanket of butter with mixed herbs and fresh chives.
Another option that compliments whole spring lamb wonderfully is roasted new potatoes. These are infused with garlic and rosemary and roasted in the oven. A few of these on the side of any menu's is a lovely side dish!
The best to compliment any of the meats on Hog Roast Ilford's menus are the deliciously crisp roasted potatoes that have the softest filling. The chefs of Hog Roast Ilford's have nailed the perfect roast potatoes.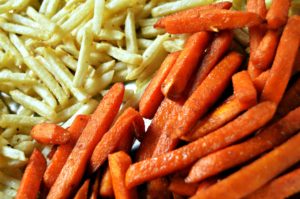 Chips! Who doesn't love chips?! A definite winner for Hog Roast Ilford, a brilliant addition to any menu. The chips are fried fresh on site ensuring a crispy exterior and fluffy interior. These can be normal or sweet potato fries or even a mixture of both. Sweet potato fries go particularly well with the Southern-Slow Roast.
The newest potato option, coming for summer 2021 is the creamy and rich dauphinois potatoes. Thinly sliced Maris pipers' potatoes coated in a double cream sauce adding Spanish onions, garlic and salt and pepper seasoning, making the most delicious blanket of scrumptiousness.
Bespoke potato menus – in the past we have cooked jacket potatoes on bonfire night and offered a variety of fillings such as beans, cheese, and chilli. A common request is a potato salad which is made with new potatoes smothered in mayonnaise with a sprinkling of fresh chives and spring onions, it is to die for!
Whatever potato option you fancy, you are certainly in for a culinary masterpiece, completely tasty and 100% satisfying.